Interdentals
The prevention and management of gum disease is a lifelong commitment and depends on the daily mechanical removal of plaque, through toothbrushing and interdental cleaning[1]. The evidence shows that gum disease can only be managed with good compliance[2].
The key is to recommend tools that patients will be willing to adopt and use. While flossing might be a long-established and well-known interdental cleaning method, flossing effectively is difficult[3]. Studies have demonstrated that easier-to-use interdental brushes and rubber tip micro-brushes are associated with greater compliance, efficacy and outcomes compared with floss[4] - [7].

They help patients gently and effectively clean where their toothbrush alone can't, thus driving compliance.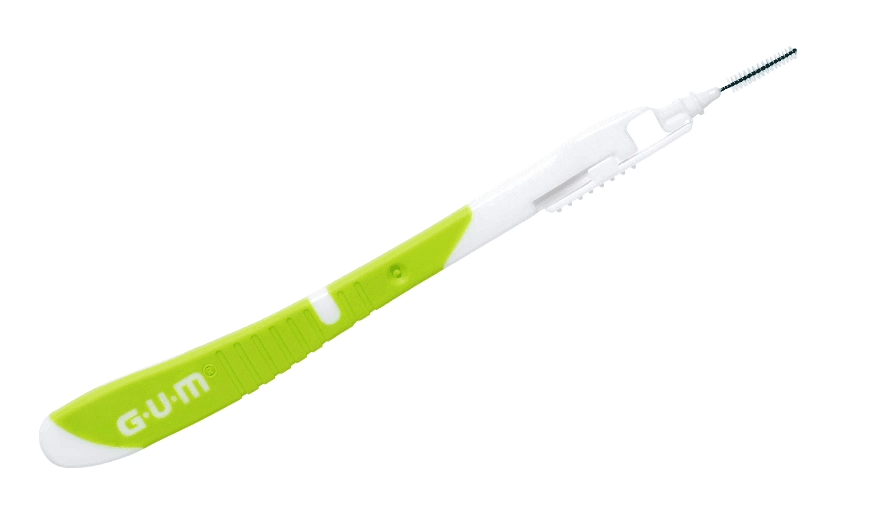 GUM® SOFT-PICKS®
The patient-preferred interdental micro-brush. Particularly easy to use and causes fewer gum abrasions (vs floss)[8].
Designed to stimulate gingival blood flow and remove food debris & interdental plaque[9].
For the periodontally healthy and for all patients on the GO. Also ideal as a first interdental for the low-compliant patient.
Range of sizes: S, M, L
GUM TRAV-LER®
The easy-to-use interdental brush for periodontally compromised patients.
Designed to better fill all interdental spaces. 
Removes up to 25% more plaque than regular brushes, thanks to proprietary triangular bristles.
For patient comfort and control, with a gentle mouth feel.
Range of sizes: ISO 0-7 (11 sizes, find the perfect fit tailored to your patient).
GUM BI-DIRECTION

The easy-to-use interdental brush that offers two positions at choice for easy access to posterior teeth.
Removes up to 25% more plaque* than ordinary bristles thanks to proprietary triangular bristles.
Ideal for your periodontally challenged patients, those wearing implants and bridges and those with dexterity issues. 
Range of sizes: ISO 0-4

Leverage ease of use to help patients adopt interdental cleaning
GUM has developed a simple recommendation that allows oral care professionals to consider their patient's periodontal health status (healthy or not) and then match it with their patient's behaviour and motivation to propose a solution that has a good patient fit and is more likely to be adopted. We call it the «Oral health ease-of-use ladder».
Evaluate your patient's periodontal health status

Consider your patient's current behaviour – which tools is the patient currently using? Toothbrush only? Toothbrush and floss?  
Gauge your patient's motivation for interdental cleaning. How many times a day does he or she brush? How many times a day/week does he or she floss or use an interdental? What is your patient's facial expression while you are speaking to him? 
Take into account any dexterity issues

 

Rubber interdental cleaners, like GUM SOFT-PICKS,  are the universal tool for all patients – the primary tool for the periodontally healthy and the secondary tool for periodontally unhealthy patients. 

For the most hesitant, low motivation patient, irrespective of health status, always start with rubber interdental cleaners (space permitting). Patients prefer them because they are particularly easy to use and cause fewer gum abrasions . For patients needing an extra nudge, you may want to consider mint-flavored rubber interdental cleaners. 

For the periodontally compromised patient, always recommend best-in-class interdental brushes, like GUM TRAV-LER – either as a second step, after the adoption of rubber interdental cleaners or right away in combination, so as to promote interdental cleaning at home and on the go. 
[1] Chandki 2011; Ng 2019.
[2] EFP/ORCA workshop in Jepsen S, J Clin Periodontol, 2017.
[3] Asadoorian J, J Dent Educ, 2006; Ng E, Dent J (Basel), 2019.
[4] Hennequin-Hoenderdos NL & Slot DE. Int J Dent Hyg 2018.
[5] Graziani F, Int J Dent Hyg 2018.
[6] Needleman I, J Clin; Periodontol 2005.
[7] Wilder RS, Periodontol 2000, 2016.
[8] Hennequin-Hoenderdos NL & Slot DE. IntJ Dent Hyg 2018.
[9] Johnson T, Cochrane Database Syst Rev 2015.